Continuous / In-Line Frying Systems
Electricity / Thermal-Oil Heated
WHEN FRYING LARGE CAPACITIES IS A NECESSITY!
Large capacity frying scale of various foods is a very well known problem.
Among the major difficulties are: technology related production problems, labor cost is high and the efficiency is low, wastage levels are high, and frying results are not satisfactory.
Our continuous frying system was built to solve these difficulties.
It can easily fries chicken breasts, drumsticks, breaded meat, crisps, fish and in general all products that needs a deep frying with a perfect golden glow, at significant low costs.
As all of our products, the Gal-Esh Ltd. frying systems are tailored made to the customer needs.
Technical Features
Heavy duty construction.
Stainless steel 304L (all conveyor accessories and oil sump 316L)
Right/left process is available
Complete oil filtration
Automatic oil supply (with two detectors)
Heating oil control (with two detectors)
Variable conveyor speed
Automatic belt lifting for cleaning of the frying tank.
A complete coverage of the effective frying zoon
Perfect compliance with standards
H. detector for better oil efficiency. (independent unit – not integrated to the machine)
Technical Drawings
L,L1,W,W1,H, H1 are avilable in al sizes (to meet customer space, Process speed, or other requirements).
The frying systems are avilable electricity or thermal-oil.
All energy technical data will be supply after configuring model specs.
Advantages
Large scale production in compact size
Labor savings
Frying oil circulation increases oil life time.
High quality end product
Different heating media avilable
Easy to operate
Ease of maintenance is high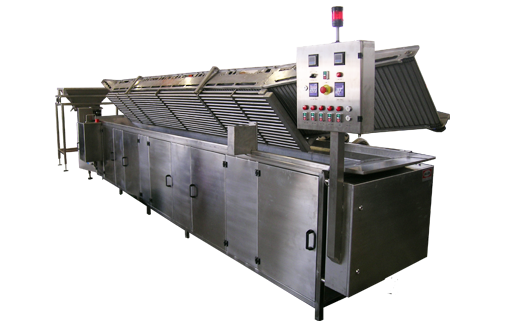 Rights and Changes
GAL-ESH Machines fulfill the valid regulations concerning CE throughout Europe.
The information above, represents our best judgment and is based upon our experience and work previously done.
The company assumes no liability whatsoever in connection with the information contained within.
The company reserves the right to make changes to the specifications.