Washing Cabinet for 200 Liter Buckets (Trolleys)
Technical Features
Process Stages :
1) Pre-Rinse
2) Wash with detergents.
3) Final rinse.
The first water rinse with the dirt drained out of the machine and not mixed with the
detergent water, so that the detergent water concentration is maintained.
Water consumption : 20-30 liters (4.40-6.60 gal.) per a trolley.
Working temperature : 400C – 700C (1040-1580F).
Automatic filling water level control
Washing with detergents by recirculating pump.
Water tank capacity : 500 liters, with automatic level control.
Closed system steam heating.
Total power         : 18 H.P.
Water pressure : 6-8 Bar.
Control box voltage : 24 V AC
Emergency stop switch.
Control box completely insulated, Programmable controller.
Door and rotary arms hydraulically driven.
Temperature controlled by a sensor and adjustable by digital selector.
Water sprayed by a set of stainless steel nozzles, which are rotated by hydraulic
system, speed is adjustable.
Washing Cabinet for 200 Liter Buckets (Trolleys)
This washing cabinet is specially designed to wash 200 liters buckets (trolleys).
Material : Stainless steel construction AISI 316 L. Plate thickness: 3 mm.
Capacity : 20-60 trolleys/hour (approximately).
Weight : About 800 Kg. (1764 Lbs).
Dimensions : Height : 2320 mm (91").
Width        : 1400 mm (55").
Length        : 1600 mm (63").
Length with open door : 3000 mm (118").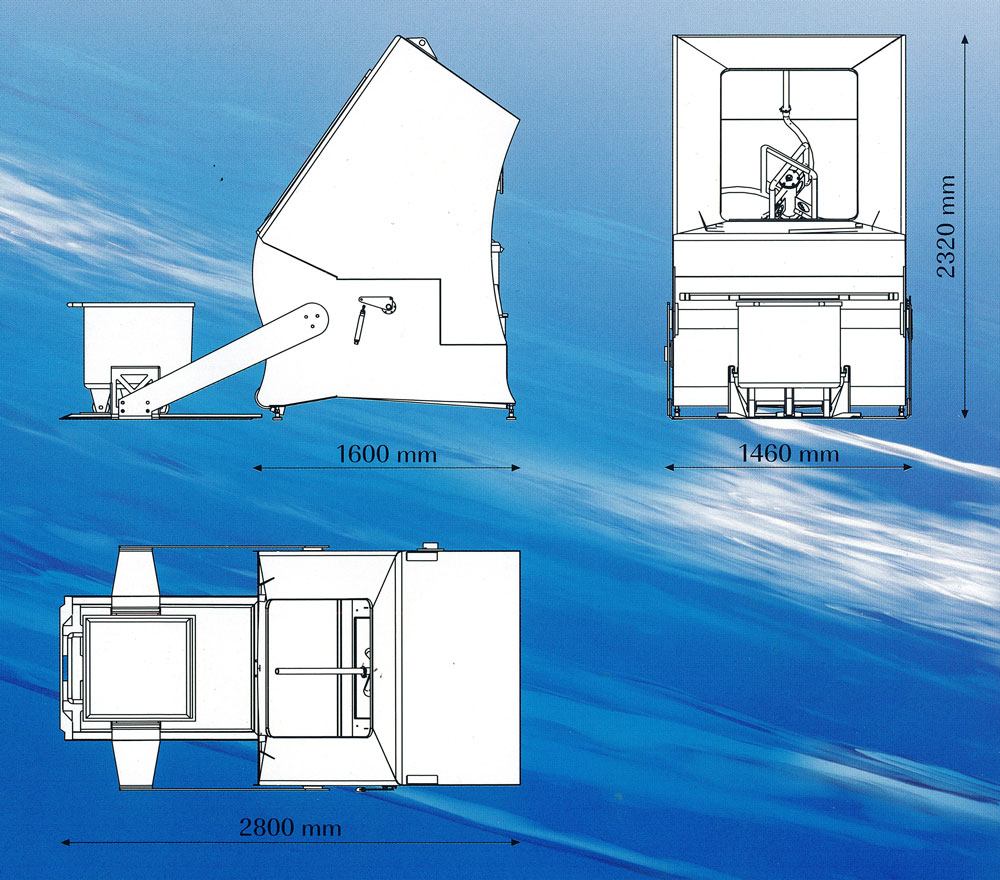 Advantages
Perfect cleaning.
Saving in water consumption and detergents.
Saves floor space .
Compact construction.
Easy operation and maintenance.
Reliable.
Quick return on investment.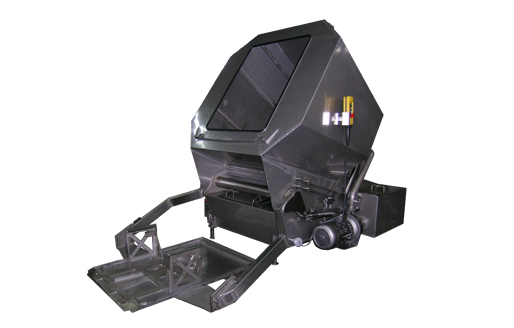 Rights and Changes
GAL-ESH Machines fulfill the valid regulations concerning CE throughout Europe.
The information above, represents our best judgment and is based upon our experience and work previously done.
The company assumes no liability whatsoever in connection with the information contained within.
The company reserves the right to make changes to the specifications.